Step into the Real World of Marketing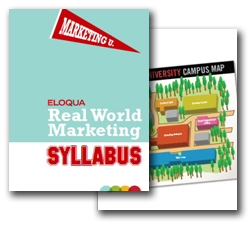 Forget about the world of branding, advertising and the 4Ps you learned about. Corporate websites, sales people, and marketers themselves have become the enemy. More and more consumers are turning to their peers for information and recommendations. In a rapidly changing technological landscape and constantly shifting consumer behavior, marketers need to be fully equipped with the knowledge and skills they will need to succeed.
We have assembled lessons from some of the most respected voices in the field, and collected practical advice from some of most successful marketers working today.
The curriculum includes the topics below, plus a series of references and guides that will help you on your next step in your marketing development.
Personal and Corporate Branding in a Social World
The Content Marketing Revolution
Generating and Managing Leads
The Packaging of Data
Startup Marketing
The Role of Search in a Real-Time Sales Cycle
Beyond Marketing: When Marketing Impacts Product, Support and More
The New Mathematics of Marketing